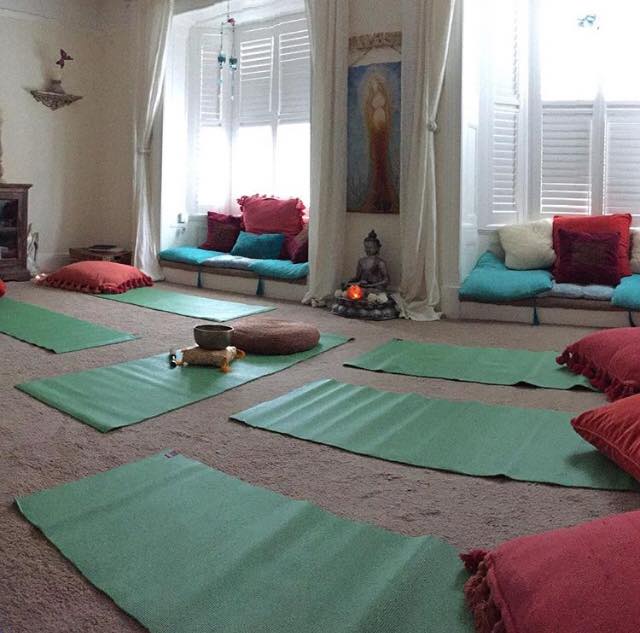 This is an invitation to a gorgeous, intimate boutique retreat nourishing your body, mind and spirit with delicious vegan food, twice-daily yoga practices, and pilgrimages into nature and sacred sites around Glastonbury, plus optional extra teacher training sessions.
Glastonbury is the heart chakra of the earth, and is steeped in legend and lore – it is said that the curvaceous land around Glastonbury Tor is the embodiment of the Goddess herself. Joseph of Arimathea was said to have travelled here with the Holy Grail, and pilgrims for centuries visited the Abbey here to see the reputed burial site of King Arthur.
We will climb the Tor to St Michael's tower and practie yoga on her sacred land.
At the base of the Tor, clear vibrant water emerges from the rock at the White Spring, where the goddess is still worshipped in many forms – there are shrines here to Brigid, Danu and others – and goddess-worshippers or just the curious are welcome to immerse naked or clothed in the cool, dark water of the spring, and we will chant and make offerings in the rich cavernous darkness.
In the World Heritage site just across the street, the water emerges iron-rich from rock at the Chalice Well, the holy blood of the goddess, the place where her earth meets her water. We will meditate in the beautiful peace garden around the spring, and drink some of her iron-rich blood.
On the final evening of our retreat, we will have a sunset fire ceremony where we can release anything which is no longer serving us back to potent healing land of the Goddess, and an offering of healing from ourselves to Mother Earth, who so needs our healing support.
Our closing ceremony on the final morning of the retreat will celebrate the energy field of our own individual hearts in the vibrant field of the earth's energetic heart, and closing with yoga nidra to enable us to integrate the lessons of the journey.
Schedule
Thursday
4pm arrivals
5-7pm Yoga practice
7:30pm Dinner + Sangha
Friday and Saturday
7-9am Yoga practice
9:30am Brunch
12 - 2pm Sacred site visits
2-4pm Optional teacher training session
5-7pm Evening restorative yoga and yoga
7:30pm Dinner + Sangha
Sunday
7-9am Closing Yoga practice
9:30am Closing Brunch
11am Checkout
Meals listed above are included except for Saturday evening when we will eat out.
Bookings
The basic exchange for the retreat is £495.
The additional teacher training is £95. *
* A full manual will be provided for teacher training students, and the weekend will comprise 22 contact hours towards the Nartana Yoga School advanced (300 hour) teacher training programme and Yoga Alliance Professionals CPD hours.
Prices are based on shared rooms at Sacred Yoga Garden.
Prices can be provided on application for non yoga practicing partners and non-residential options.